Top 10 cell-phone manufacturers face challenging 2010, says iSuppli
Source :iSuppli update : 2010-04-16
The top ten contract manufacturers of cell-phones will experience a difficult 2010 following a year that upended their longstanding business models and dealt them unprecedented losses, according to iSuppli.
Overall cell phone shipments for the top ten ODM and EMS providers will rise by 3.4% to 204.2 million units in 2010, up from 197.5 million in 2009, said Jeffrey Wu, senior analyst for EMS & ODM at iSuppli.
However, viewed from the perspective of an industry accustomed to double-digit growth, the slight increase is no cause for celebration, Wu noted.
"The relatively flat growth anticipated in 2010 by the top contract manufacturers for wireless handsets is unimpressive when juxtaposed against the steep 30% plunge recorded by the group last year," Wu said.
At that time, shipment levels fell from 280.9 million units in 2008, iSuppli figures show.
Depressed situation remains for the year
The persisting challenges for the wireless handset contract manufacturers represent a carryover of the upheavals in 2009, when a fall in the global wireless handset market forced key strategic shifts throughout the industry supply chain, Wu said.
Responding to reduced demand, many mobile handset firms adjusted their overall manufacturing and outsourcing strategies, in the process impacting ODMs and EMS providers alike. As such, prospects remain gloomy in 2010 for the group, Wu noted.
Among OEMs using the services of the contract manufacturers, outsourcing strategies are being adjusted in the face of the recession, and OEMs remain cautious about reengaging contract manufacturers in case the market does not recover as quickly as expected.
Nonetheless, the overall wireless handset market will bounce back in 2010, not only growing 12.8% to 1.5 billion units but also expanding at a CAGR of 6.8% from 2009 to 2014-suggesting that recovery could be around the corner even for the top ten.
Debilitating setbacks in 2009 pummel contract manufacturers
One example of the severe blow absorbed by contract manufacturers is exemplified in the 2009 decision by Nokia to bring in-house previously outsourced orders. iSuppli estimates that Nokia's overhaul of its old business model translated into revenue losses among contract manufacturers reaching up to US$5 billion. Sharing similar concerns about internal capacity utilization, other OEMs contemplating a ramp-up in contract manufacturing services then either reduced the size of their outsourcing programs or halted outsourcing considerations altogether.
In addition to the pullback from these companies, the market-share losses of Motorola and Sony Ericsson, two major first tier OEMs that relied on contract manufacturers heavily, rippled through the chain, impacting the manufacturing partners of the two giants down the line.
Demonstrating the difficulties for wireless handset contract manufacturers, shipments effectively halved in 2009 for some major players, such as Foxconn International Holdings (FIH), Flextronics International, Compal Communications, Arima Communications and Elcoteq SE.
Wu observed that while expanding into manufacturing for the smartphone segment allowed big-name contract manufacturers to obtain new orders from second-tier OEMs, those gains could not offset the larger losses that slipped away from the pullback of bigger customers such as Nokia and Sony Ericsson.
"Ultimately, it is only when robust growth is attained in the wireless handset market and confidence restored among firms that contract manufacturers can expect to revitalize their pipeline," Wu said.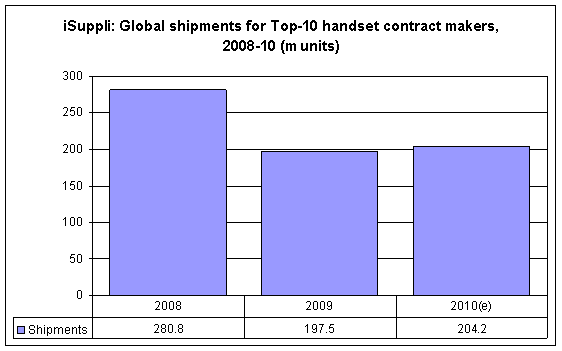 Source: iSuppli, compiled by Digitimes, April 2010
Related Articles